Vinyl Flooring Chichester & Hampshire
Are you looking for a floor to last through the ages, one that'll withstand the harsh treatment from your pets and the rough and tumble of your children?
Or a floor that'll take all kinds of brutal punishment from breakages and spillages but will still maintain it's aura of original beauty, decades after it's been first installed?
All for an insanely affordable cost per foot?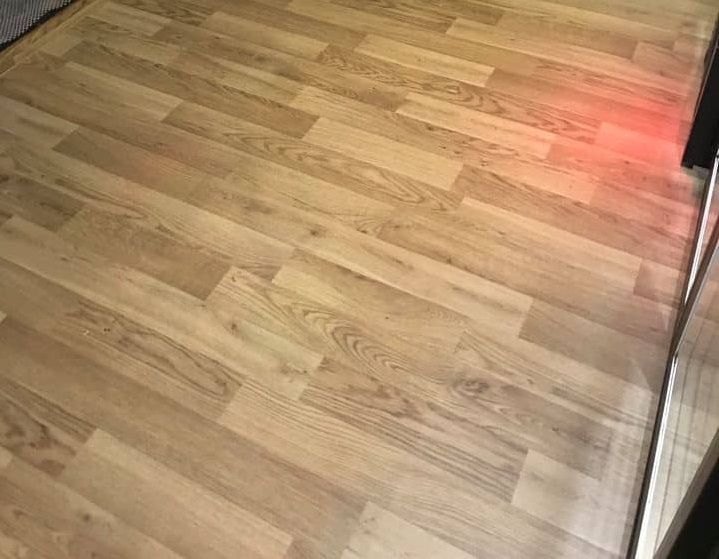 Vinyl: The Flooring Solution That Combines Beauty With Tough Durability
If you are looking for such a floor, then there really is no alternative to a vinyl flooring solution.
You see, when it comes to a floor that walks that fine line between durability and cost, no other floor type comes close.
And contrary to what some may believe, thanks to advancements in production technologies, your typical vinyl floor is going to be match for your average wooden floor any day of the week.
In fact, telling the difference is usually only possible by taking the time out of your day to see exactly what kind of floor you're walking on.
To the casual observer, your typical vinyl floor these days is practically indistinguishable from your average wooden floor.
It will usually look and feel just as stunning, with colours and patterns to match every conceivable taste; from wooden pattern grains to a range of funky, cool design motifs.
And it doesn't stop there with its often awe-inspiring beauty.
Vinyl is surprisingly comfortable under foot, and if you're looking to reduce the amount of noise in your home (and let's face it, who isn't?) then a vinyl floor could be just the ticket to add a touch of much needed serenity to your hallway, kitchen or living room.
And when it comes to the your vinyl floor's install, my experience of installing hundreds of floors across Hampshire and beyond has taught me the importance of process.
While other contractors look to finish the job quickly so they can work on their darts score down the local, I prefer to take my time to ensure you get the vinyl floor both you and your family deserve.
I believe in always doing the necessary preparatory work of smoothing out the underlying surface to guarantee your finished vinyl floor is as smooth as a bouquet of summer cherries.
It's preparatory work that's overlooked by many, but ignoring it could leave you stuck with a floor more suited to hiking than walking!
And if for whatever reason you find the fitted vinyl floor doesn't meet your required standards, then you're covered by my "iron-clad", no quibbles guarantee.
It means should the floor not be fitted to the high professional standards you expect, I will work around the clock to ensure your floor is installed to your satisfaction.
All out of my own pocket and on my own time.
Now in my 14 years of being in the flooring game no property owner has ever taken advantage of my guarantee, such is the depth of satisfaction with my many satisfied clients.
But be that as it may, my "iron-clad" no-quibbles guarantee is there should you need it. It gives you the peace of mind to know if anything goes wrong, your floor, your property and your investment are all as safe as houses.
So perhaps you like what you read, and you know a vinyl floor is just what you need to give your property both the durability and beauty you know it deserves.
And maybe you also think I'm a good fit for your flooring needs?
Well, you can find out with just one phone call.
Call me, Andrew Pepall on 01243 850962 to see how I can help you with your vinyl flooring requirements today.
Warmly,
Andrew Pepall,

Contact Us For A Free Quote!