About Us
Meet The Emsworth Flooring Company Making Neighbours Drop Dead With Jealousy – Or They Get Every Penny of Their Money Back
Dear Friend,
Meet The Emsworth Flooring Company Making Neighbours Drop Dead With Jealousy – Or They Get Every Penny of Their Money Back.
Perhaps it was in the aftermath of a raucous dinner party you looked around your once glorious dining room and felt things needed to change.
Maybe it was the day you woke up and found your once vibrant carpet was as lifeless as the icy moon?
Or was it the night spent mesmerized by your friend's beautiful Antique French Oak finish that's convinced you to restore your kitchen's fading floor back to its glory days?
It might even be your reason is a little more mundane – you've a rental property that's seen more than it's fair share of action and to maintain the value of your investment it needs to be replaced.
So if you're looking for a new floor – whether it's carpet, vinyl or wooden, and you've been frustrated finding the right flooring company for your needs then your day just got a whole lot better.
Because today I'm going to share with you the secret to a floor which causes your neighbours to camp out in the bushes like paparazzo's, itching to catch a glance at your house's new dining room floor.
It's a secret that has nothing to do with chunky sample charts or "smoking hot" Walnut finishes, but instead everything to do with three words.
Ask any property guru worth her salt about property and usually the first three words out of her mouth will be, "location, location, location."
And when it comes to floors there's little things at play also, "education, education, education."
Or as I like to term them, "The Three E's."
My approach is simple: before any decisions are made about the type of the floor that's installed, I put "The Three E's" into action immediately.
Firstly the customer educates me about her wants, needs and expectations, during which I provide as much advice and information as possible.
Based on this conversation, I then educate my client about why they should consider an oak floor as opposed to a walnut finish if they have a young family, and why this makes sense with a gang of temperamental toddlers, boisterous boys and gregarious girls running around.
Or whatever type of flooring solution suits them and their own particular set of circumstances.
Thirdly after the information exchange that's occurred between both parties, it's time to assess the room's sub floor. This final "education" process is essential to prevent problems that may surface many years down the line, such as with moisture damage or installing the wrong type of floor for your room.
And should these problems surface, they will result in costly re-works that drain your bank balance and sap your precious patience.
So you see these "Three E's" are critical to ensuring you not only have the right floor for the right room, but also the right floor for your property and your unique set of circumstances.
It can be the difference between a floor that lasts a lifetime, or one that needs a lifeline.
So who am I, and why should you care?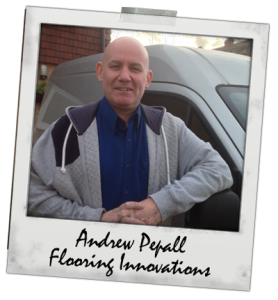 My name is Andrew Pepall and for as long as I've been in the flooring game, folks have known me to be a tad "obsessed".
Unfortunately for people like my long-suffering girlfriend and mates, I tend to talk at length about the flooring game.
You see it's a subject that fascinates me to the core and it's probably safe to say I've put quite a few people to sleep over the years!
But while it's bad news for my girlfriend when she's trying to get her nightly fix of Eastenders, it's means every piece of flooring comes from the hand of someone who's "obsessed" with his craft.
It's an instinct honed by years of being up close and personal with materials like Oak, Walnut and Cherry, lovingly carving woods and vinyl to exact razor thin margins giving you a flooring experience fit for a high-society ballroom.
My passion for my work means I only source out the best materials, whether it's wood from the Brazil or vinyl by Amtico, Quick-Step laminates from Europe, Axminster or Wilton traditional carpets for your home or business, as well as commercial flooring materials, office carpet tiles, school carpet, safety flooring from Altro, marmoleum, linoleum for your hospital/doctors.
But perhaps you're still not convinced.
Being honest I don't really blame you.
I think it's fair to say most people in the trades have something of a "reputation".
From the builders who arrive to a customer's property stinking of booze from the night before to the scruffy plumber who overcharges for the simple twist of a screw, it's a fact of life the average person's opinion of tradesmen isn't as good as it could be.
So because of this if you find it difficult to trust me, I understand, I really do.
I'm only too aware of the reputation we in the trades have, and the difficulties your typical property owner has in finding reliable tradespeople.
That's why I offer a no-quibble, "iron-clad" guarantee on each and every floor I install.
It means should you feel unsatisfied with the fitting of your chosen flooring, I'll re-fit it completely free of charge.
And if you're STILL not satisfied with how it looks, I'll pay for another company of your choosing to re-fit it for you.
Whatever it takes to get the floor you and your family truly deserve.
But despite my "iron-clad" guarantee, perhaps you're still somewhat skeptical.
It's not an unreasonable position for you to adopt, given the "cowboy builder" culture that's all too common in this country.
Which is why I'm going to keep quiet for a moment and let a small number of my satisfied customers speak for themselves..
Kym Davis,
Emsworth, Hampshire.
Jacqui Chard,
Emsworth, Hampshire.
Mick Gladdis,
Emsworth, Hampshire.
Jacqui Chard,
Emsworth, Hampshire.
So perhaps my "iron-clad" guarantee, my install process and my overall approach sound to your liking, and you're eager to find out more about how I can improve your property?
Well, there's a few things you need to know first about my business and how I operate.
You see as flooring companies go, I'm not for everyone.
I'm not in a position to help every home or business. Unfortunately there are some properties I'm unable to service, such as those who expect credit or commercial properties or agents who wish to pay 30 days from the date of invoice.
Likewise "new tender" projects or properties with flooring tiles with asbestos won't be a good fit either.
Nor will those who are seeking a quick turnaround on their flooring installs.
I tend to work slowly on each and every job and don't believe in rushing purely for the sake of it.
And while other flooring companies might adopt a "quickly-quickly' approach, I believe taking my time is essential to ensure you get the best possible floor.
For me (and my many satisfied clients), it's the only approach that makes any sense.
While some contractors will have your floor installed quicker than I'm able to deliver, it also means your floor will come back up just as quick too!
So you see I believe in taking a calm, measured and methodical approach to each and every flooring job I undertake.
I believe this is the best way to ensure you receive a floor that not only lasts for generations, but is the right floor for your specific needs too.
And for those looking for a "bargain basement" flooring solution I'm afraid I won't be suitable either.
While it's true I do provide outstanding value for money given the depth of service I provide (both "pre" and "post" install) and the quality of materials I use, it's fair to say my prices are certainly not on the cheap side.
Some might say they are "reassuringly expensive".
But overall on balance, I think it's fair to say I'm among the cheapest flooring contractors around.
Tell me, would you seek out a backstreet surgeon to correct your youngest daughter's heart murmur?
Would you trust the pilot who's flunked out of flying school 7 times to get you to New York, if it meant the price was 46% cheaper?
Most people wouldn't.
And while your flooring needs are certainly no life or death matter, it's reasonable to assume that you should always seek out the best contractor available, all things considered.
Because if you think hiring a professional is expensive, wait until you hire an amateur.
So if you're looking for an experienced flooring company with an intuitive understanding of how a floor is put together….
…..one that uses the best, fully guaranteed flooring materials money can buy then you need to call me, Andrew Pepall, on 01243 850962 for an estimate today.
Warmly,
Andrew Pepall,
Flooring Innovations

P.S. A quick reminder about my no-quibble guarantee. While I personally will stand over the quality of the install and the materials, it doesn't stop there.
Because all chosen material is installed to exact manufacturer's instructions, you'll have their guarantee to bolster your floor, as well as mine.
However, the guarantee is based upon the materials and fitting only. It does not cover any instance where you change your mind about the way the floor looks, like if you fall out of love with the colour or design.
It's based purely on the fitting and materials of the flooring